With GSP gone for four years, the Canadian icon was coming back to a completely different MMA landscape compared to the time he ruled the welterweight division. Would St-Pierre have ring rust? Was a jump to 185 pounds a smart move? At 36 years old, did the sport simply pass him by?
It took less than a round to get the answer to all three of those questions Saturday night, as St-Pierre confirmed his pre-fight claim that the best version of GSP would be fighting in NYC. He threw his signature superman punch near the end of the round and landed a wheel kick to the head of Bisping to the delight of the MSG crowd.
In the second, Bisping halted St-Pierre's momentum, cutting him from the bottom after GSP landed one of his three takedowns. In the third, St-Pierre perhaps cemented his status as the GOAT with his first finishing in almost a decade. He landed a left hook and then swarmed with vintage GSP ground and pound until Bisping gave up his back, allowing "Rush" to aply a rear naked choke for the win.
"I don't have the words," St-Pierre said after becoming just the fourth fighter in UFC history to win a championship in a second weight class. "I took this fight to challenge myself and I am honored to be champion once again."
These are the UFC 217 Talking Points
St-Pierre's star power as massive as ever
After two memorable title fights at UFC 217, Georges St-Pierre was met with the type of crowd reaction reserved for only the all-time greats. The roar of MSG was significant when he walked to the Octagon and was even louder when he finished Michael Bisping.
Now back and with another world title added to his collection, St-Pierre begins the second chapter of his legendary story. Michael Jordan walked away from basketball after his first three titles and in his prime. The Chicago Bulls icon was just as good and maybe better when he returned to win the final three championships of his career.
St-Pierre proved he's still got it and now the fun part of seeing where the story goes next awaits UFC fans around the globe.
Bisping's reign should be applauded and appreciated
It's a hard gig to play the villain. Bisping does it arguably better than anyone in the history of the sport. But aside from the press conference barbs, witty insults and general tomfoolery, "The Count" has been a jewel of mixed martial arts for more than a decade.
Bisping had nothing handed to him and earned his long-awaited title shot toiling within the UFC ranks for many years. When he got the opportunity, he cashed in with one of the best championship fight knockouts ever.
It's easy to dislike Bisping because of his bravado, but it's equally simple to respect the career of a legend that will only be truly appreciated long after he's gone.
RELATED: Dana White Event Recap | TJ Dillashaw "The Belt Is Back Home" | UFC 217 Fantasy Rewind
Dillashaw's composure wins the day
The bantamweight title bout between Cody Garbrandt and TJ DIllashaw was packed with emotions. Former teammates whose dirty laundry was aired out on National TV during The Ultimate Fighter made their collision must-see TV.
Dillashaw learned from his over-emotional performance against Dominick Cruz where he lost the title back in 2016. So, he ignored the trash talk, the accusations and general insults coming from Team Alpha Male, and focused on his task: winning the gold belt he lost in a close decision to Cruz.
That focus, calm, and resilience led to the KO victory against Garbrandt, giving Dillashaw the first win in the very public and vitriol-filled feud between the two.
"You can say 'And New' but, to me, it's 'And Still' because I don't believe I ever lost this belt.," Dillashaw said. "It's great to have it back and I had a lot of fun in the fight. I knew he had power in his hands and he caught me during the fight but I knew I would get it done."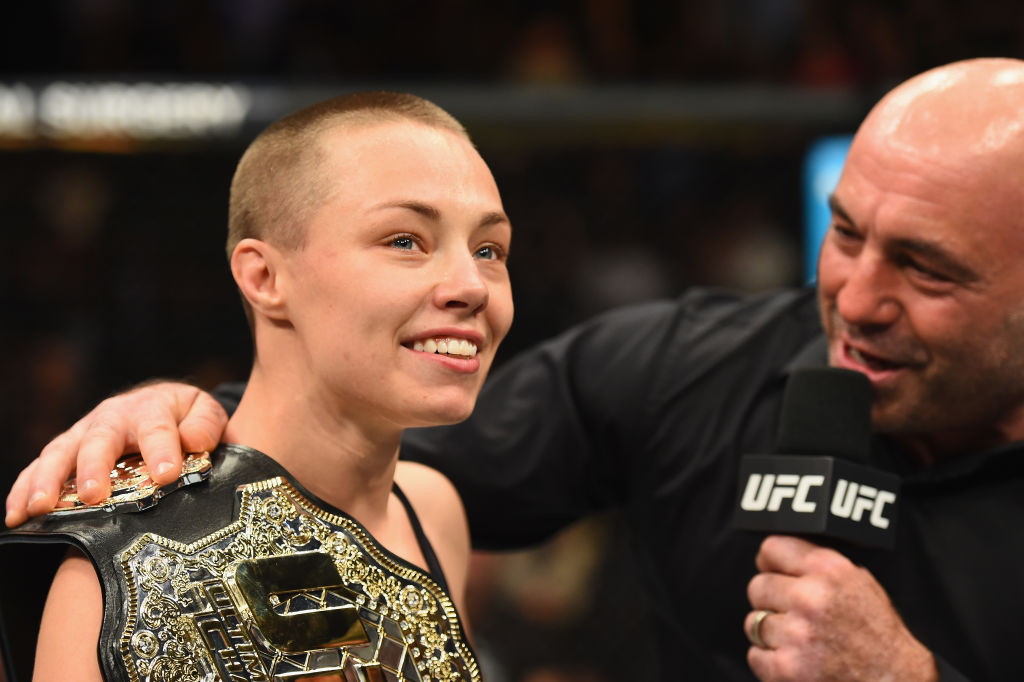 Namajunas put in work to take out the champ
Valentina Shevchenko holds three wins in Muay Thai against Joanna Jedrzejczyk, and "The Bullet" proved to be the perfect helping hand for new strawweight champion, Rose Namajunas. "Thug Rose" has trained with Shevchenko in Colorado and the striking expert seems to have rubbed off on Namajunas.
In the fight, Namajunas wasted no time cutting off the cage from the usually active and accurate Jedrzejczyk. She was confident in her own striking, saying that she thought she'd knock Jedrzejczyk in the third round. But she didn't even need that long.
"The build-up to the fight really showed me a lot," Namajunas said. "In many ways, Joanna showed me how to be a champion but also showed me how not to behave as a champion. I hope tonight changed some of her opinions about me. I have so much respect for her and for anyone who steps into the Octagon and does this."
Former champs all shine in defeat
All three champions showed up to the post fight press conference after getting finished in New York City on the biggest stage in sports. Bisping, Garbrandt and Jedrzejczyk may no longer have a belt, but all three proved to be championship material – even in defeat.
Matt Parrino is a digital producer and writer for UFC.com. Follow him on Twitter at @MattParrinoUFC