Who were the winners at UFC 216: Ferguson vs Lee? Click below to get the results for all the fights at T-Mobile Arena in Las Vegas, Nevada on Saturday, Oct. 7, 2017.
Action starts at 10 pm ET

Main event: Tony Ferguson def Kevin Lee
Tony Ferguson continues his impressive winning streak in a hard-fought submission win over Kevin Lee to walk home with the interim lightweight belt. Both fighters landed plenty of blows on one another, but Ferguson's punches often visibly dazed Lee, and when the bout went to the ground, Ferguson's elbows wore Lee down, eventually submitting him with a brutal triangle. Ferguson proceeded to call out Conor McGregor after the fight, urging him to defend or vacate his belt.
THEY SAID IT:
Tony Ferguson: "The game plan was to make him tired, to piss him off so much he'd use all that aggression and catch him in a submission and I did just that. I wasn't going to chase him or get sucked into a takedown. I really just resorted to my training, strict training. I stuck to my jab, I should have doubled up – there are a couple things I need to work on. I really work heavy on my submission game; you can't talk s*** about my submission game. I knew it was going to be a scrap, I knew it was going to be a barnburner and I hope the fans got exactly what they wanted. I'm coming after Conor (McGregor) and that's what's up."
---
Co-main: Demetrious Johnson def. Ray Borg
It's hard to put into words what Demetrious Johnson did to complete his historic 11 th title defense, but I'll try. Remember when Michael Jordan changed hands in mid-air and finished in traffic with the off hand in one of the most iconic moments in the history of basketball? Well, Johnson did his best MJ impression when he threw Ray Borg through the air with a back suplex and in mid air jumped into an armbar and submitted the challenger at 3:15 of the fifth round. Johnson was dominating the fight, landing big shots from every position and frustrating Borg, who was trying and failing to wrestle the champ. After the win, Johnson explained that he was just toying with Borg and was waiting for his moment to pull off the big finish. What a win. What a champion.
THEY SAID IT:
Demetrious Johnson: 
"I feel good. Getting up to Edmonton and getting ready to cut weight, then I get the call from the UFC saying Ray was sick. I came back home and reset, watched video again, went through another hard four weeks of training camp and I came here to put on a great show. I looked for that suplex to armbar. I've been doing that for a long time in the gym. I've kind of mastered that submission and no one has ever done it. Matt (Hume) is always telling me to hit it and I had it, my energy was full, and I was like 'Here we go.' I'm just happy I was able to do it."
"Ray said that my scrambling ability was garbage, but at the end of the day you have to remember when I fought Tim Elliott that he's an awkward dude, it was an awkward fight, he's 5'10" and long for the weight class. It was two minutes of the fight. I wanted to prove my scrambling abilities. I work with the best and I wanted to nullify your scrambling abilities. That's what I wanted to do tonight."
---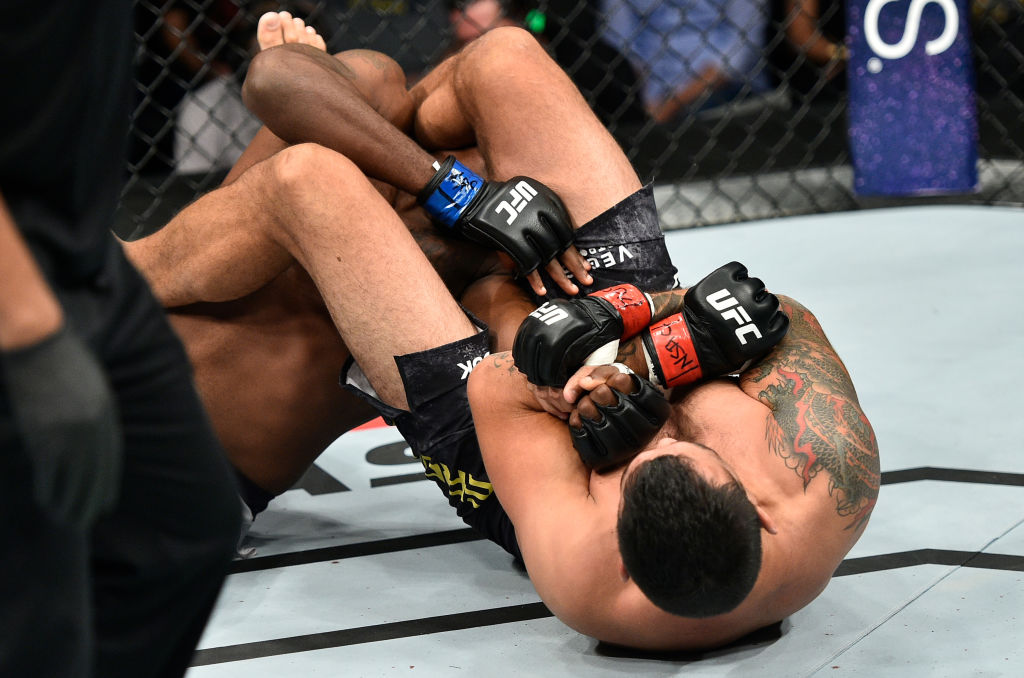 Fabricio Werdum def. Walt Harris
Fabricio Werdum made quick work of Walt Harris, who accepted an opponent change just hours before UFC 216 when Derrick Lewis was forced to pull out. Harris was originally scheduled to face Mark Godbeer, but instead stepped up to take on Werdum, who is considered by some to be the best heavyweight to ever compete in the sport. Werdum landed a takedown early and the rest was just a clinic. Werdum submitted Harris at 1:05 of the first round with an armbar. After the fight, Werdum called out Stipe Miocic for a rematch for the title he lost against the champion.
---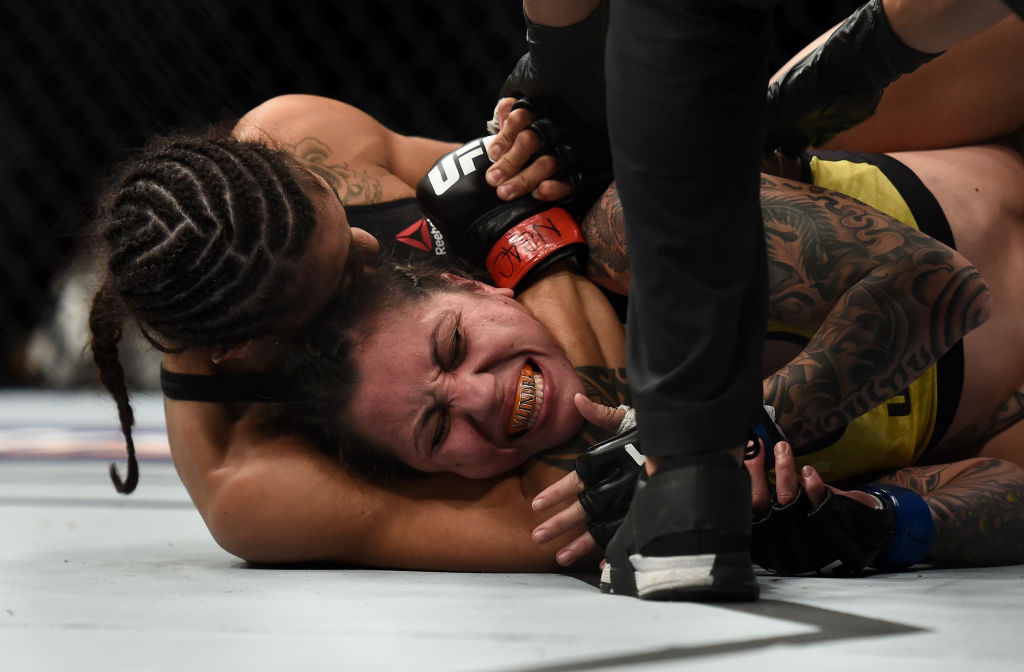 Mara Romero Borella def. Kalindra Faria
Mara Romero Borella made the most of her UFC debut Kalindra Faria with a near-immediate takdown of her opponent, some textbook ground and pound and a perfectly executed rear naked choke to dispatch Faria at 2:54 in 1st Round.
THEY SAID IT:
Mara Romero Borella
"When I was walking to the Octagon my body vibrated and when Bruce (Buffer) called my name I said to myself 'Yes, that's me'. For this fight we worked basically a week. We got all the work done in just one week and the result of the fight was exactly my game plan. I'm very happy, everything is happiness right now. I'm going to live this moment and then I'll go little by little towards the next step. I am like this, this is my personality and it's all because I represent two countries, Italy and Honduras."
---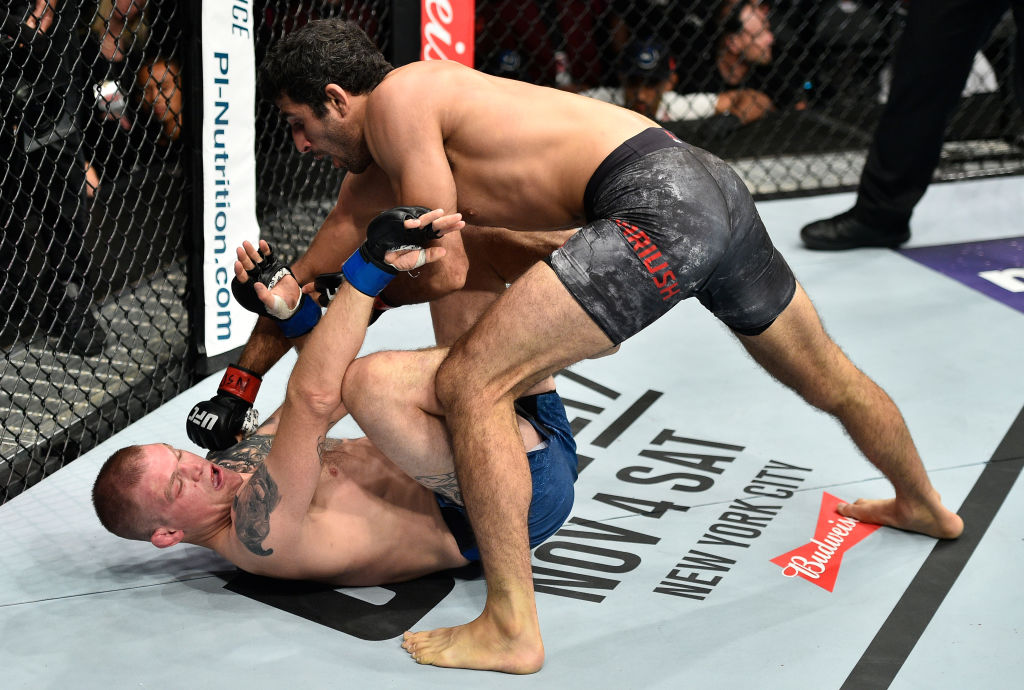 Beneil Dariush vs Evan Dunham ends in majority draw
When a sharp elbow from Dariush sent Dunham to the mat in the first round, Dariush took control of the rest of the round, keeping Dunham under a barrage of strikes until Dunham managed to get to his feet at round's end. Dariush continued his patient approach in the second, surviving an early takedown to continue landing strikes on his feet. Round three saw Dunham making up some ground early, landing a flurry of punches and knees, while Dariush managed to escape his takedown attempts. The judges scored the first round for Dariush (29-28) but scored the next two evenly for both fighters (28-28, 28-28) for a majority draw, the second draw of the evening.

THEY SAID IT:
Beneil Dariush : "I'm disappointed. I really felt I won the fight, but it's my fault I guess. In the first I was able to get his timing and land my left hand. The second round, I felt like I controlled it. I landed more leg kicks, the third round, the same thing. I felt like my jab was working. I did feel like he held me against the cage. He did take me down in one of the rounds, but he did nothing with it. I was able to get up and feel perfectly fine there. I'm a little bit confused. I couldn't care less about my spot in the division, I'm more confused on the decision to be honest. I'll have to go watch the fight."
---
Action starts at 8 pm ET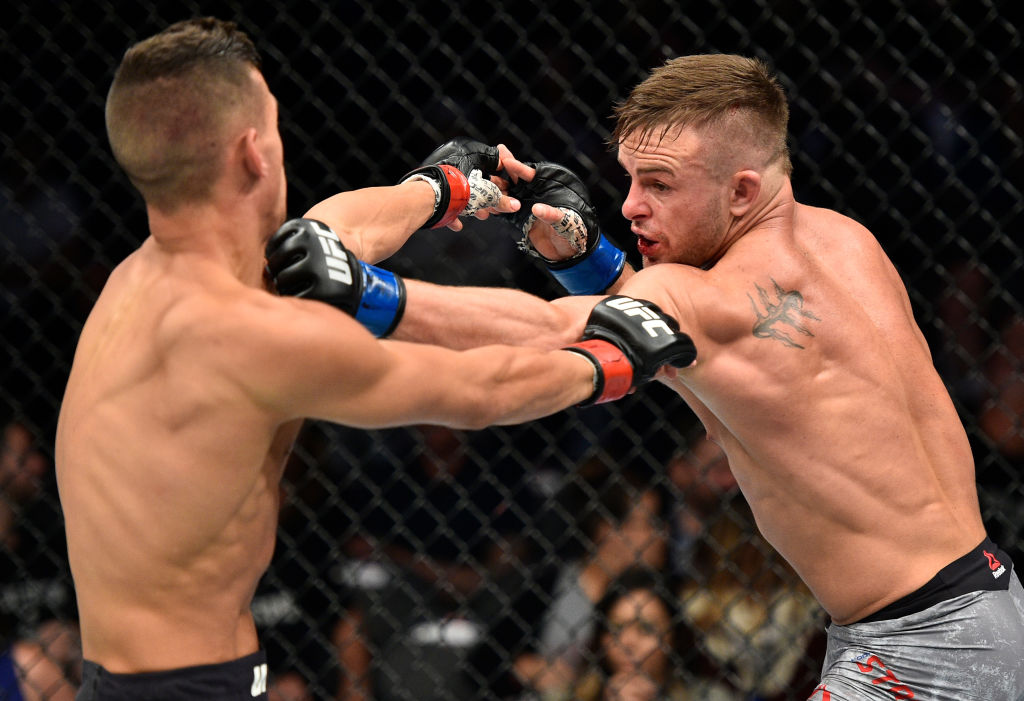 Cody Stamann def. Tom Duquesnoy
Tom Duquesnoy consistently stepped forward and threw jab after jab as the aggressor in the first round, but with a huge takedown in the second round, the momentum stayed with Stamann for the rest of the fight, finishing with a steep advantage in significant strikes, 69-39. Stamann took a split decision, 29-28, 28-29, 30-27. Stamann halts the rising star of Duquesnoy, who took the UFC by storm in his debut. Stamann improves to 16-1 and 2-0 in the UFC.

THEY SAID IT:
Cody Stamann : "I'm the top prospect at bantamweight. I'm the toughest guy coming into this division and I think everyone at 135-pounds needs to start taking notice. I knew Tom was going to be a great striker. His timing was really weird; I was throwing a lot of punches and he was just inches away. Those elbows and knees are viciously hard and much respect to him. I hope he has a long and prosperous career post fighting me. I don't care who's next. I want a top-15 guy and there is a Detroit card coming up in two months. I don't have a scratch on me."
---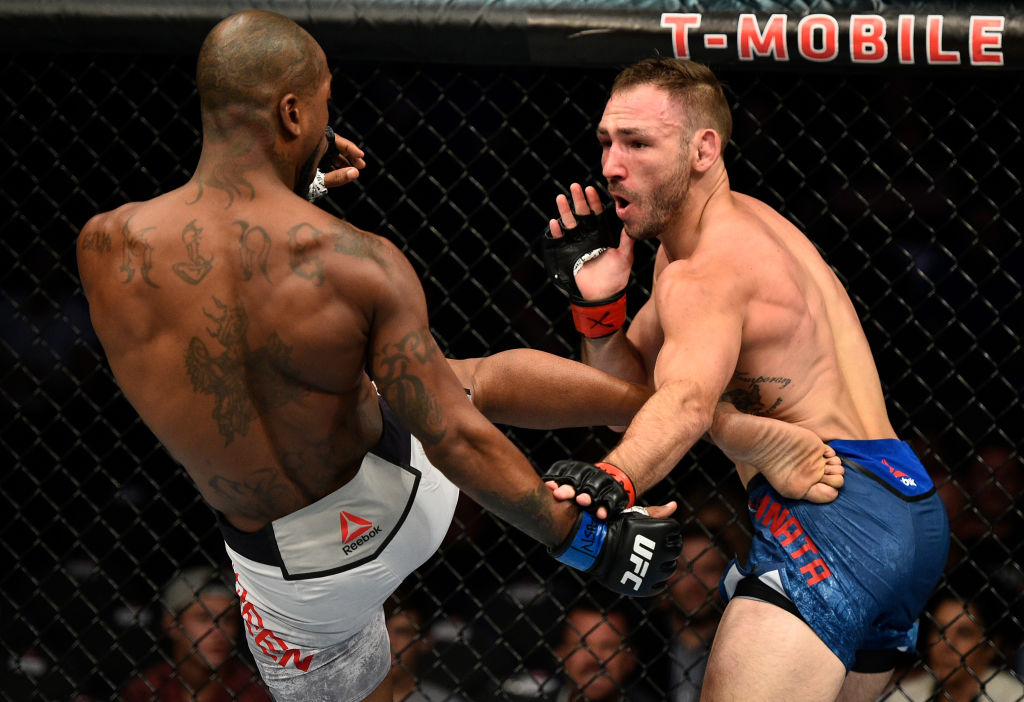 Lando Vannata vs Bobby Green ends in draw
In the leading contender for Fight of the Night, "Groovy" Lando Vannata and Bobby Green lit up T-Mobile Arena with an aerial show of flying fists and kicks in one hell of a fight. If not for an illegal knee to a grounded opponent in the first round that cost Vannata a point, he might have picked up the win. Instead the fight ended in a draw (29-27, 27-29, 28-28). Green out-struck Vannata, 109-100 in total strikes and 101-100 in significant strikes and both fighters were a bloody mess after the bout. Lando landed a pair of takedowns and had a deep guillotine at one point.

THEY SAID IT:
Bobby Green : "It was excellent. It was a great dance and we got our dance on. That's what happens, but you make the best of it. I think I get nervous, the crowd, the emotions. I just need to settle in a little bit, he had to hit me with a few punches to wake me up a little bit. I would love to do it again, he's a great dance partner. I love guys who go in there to fight and that's what he did. He did what he had to do and I did what I had to do."
---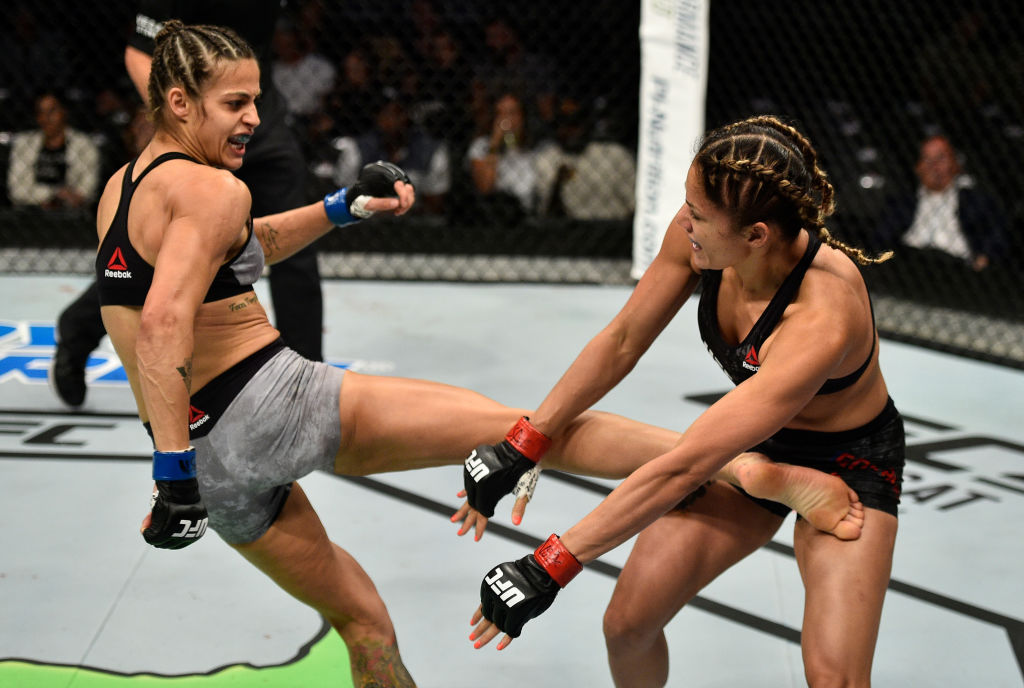 Poliana Botelho def. Pearl Gonzalez
Poliana Botelho turned away a persistent Pearl Gonzalez, who was tenaciously seeking a takedown throughout their fight to no avail. Botelho was able to land more strikes (154-88) and stuff 12 takedown attempts to cruise to the unanimous decision (30-27, 30-27, 30-27) win on her debut. Botelho picks up the win in her debut.

THEY SAID IT:
Poliana Botelho : "I feel like a champion. I feel great after getting my first UFC win and one day I will be a UFC champion for sure. I had some personal issues as well as injuries that lead to my debut being delayed. I lost some family members and I need to dedicate this win to them and to God. I feel I will move up in the division step by step and one day I will be the UFC champion."
---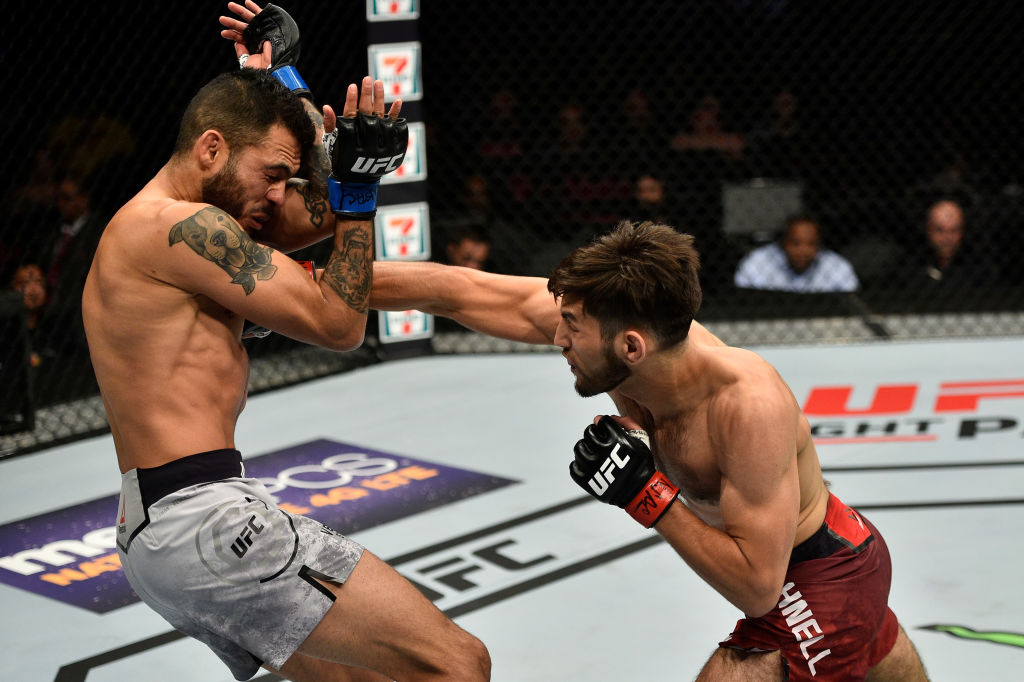 Matt Schnell def. Marco Beltran
Matt Schnell ended a two-fight losing streak and picked up his first UFC win with a unanimous decision (30-27, 29-28, 30-27) against Marco Beltran. Schnell was out-landed by Beltran in total strikes, 45-38 but landed more significant strikes to pick up the win.

THEY SAID IT:
Matt Schnell: "It is just years and years of hard work and persistence paying off. I've dedicated myself to this and it feels good. I belong here, I know I do. I bring it every single time. I can never guarantee a victory, but I can guarantee maximum effort every single time and I'm going to go out there and give it my all. This division is wide open and I can beat anyone in this division. There are better matchups for me in this division than this guy was. There are guys that are smaller than me and I can do everything I want if I put my mind to it. I will continue to fight the good fight and I know what I'm capable of."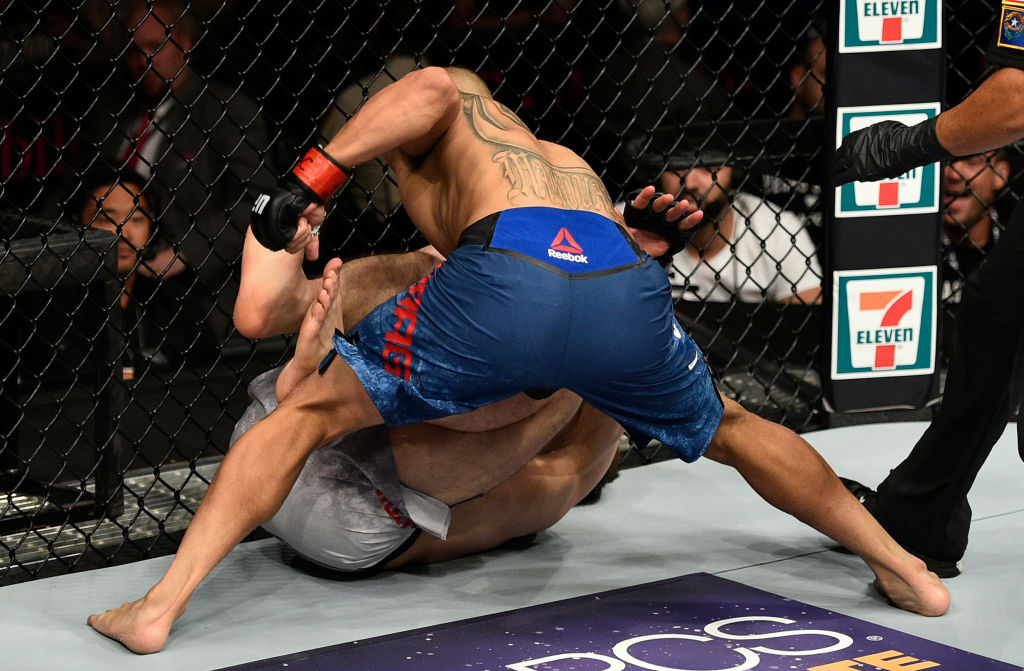 John Moraga def. Magomed Bibulatov
In a surprising ending, veteran flyweight John Morago shocked T-Mobile Arena with a first-round knockout against rising prospect Magomed Bibulatov. Moraga threw a sick combo that ended with a powerful left hook that dropped Bibulatov. Moraga jumped on the youngster and landed a huge right hand and the referee jumped in to end the fight. The loss was the first in the career of Bibulatov and Moraga now has won two in a row after a three-fight skid.

THEY SAID IT:
John Moraga: "I'm still processing this win. The UFC Performance Institute is definitely helping me. I don't plan on changing up my routine. I feel like I just go into these fights feeling so much better. My body is able to recover from all the grind of the camp while I'm at the Performance Institute. It's been rough times in my life, so it's good to get the win."
---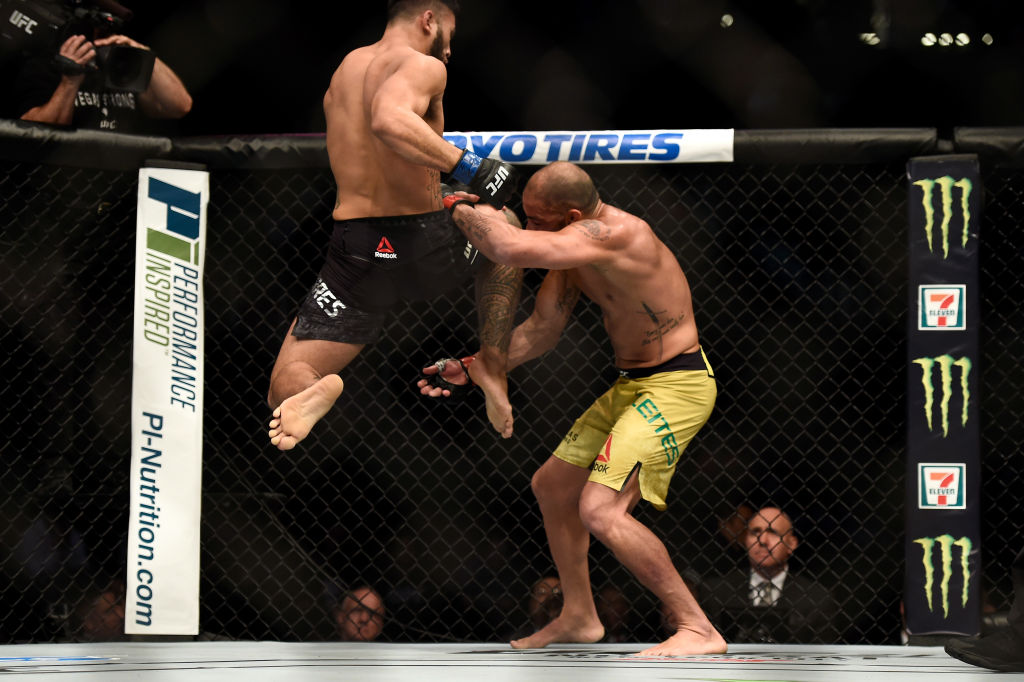 Brad Tavares def. Thales Leites
Brad Tavares dominated this one from start to finish, stuffing seven desperation takedown attempts from Thales Leites and out-striking the Brazilian, 80-50, en route to the runaway unanimous decision win, 30-27, 30-26, 30-26. Tavares turned in perhaps his best performance to date in his UFC career, using his speed and power to just take Leites apart. By the end of the fight Leites was bloodied up bad near his right eye and Tavares just continued to bring the pain. Tavares has now won three in a row.

THEY SAID IT:
Brad Tavares: "Last weekend was so weird and then on Wednesday I was down near the area that (the tragedy) happened to get my girlfriend's truck. It was a really weird feeling and it feels so good to give the rest of these Vegas residents a little bit of something better to think about and I hope I did that with my fight. I think so many Hawaiians are doing so much better, so people are noticing it more. When we do better, the people around us do better. You see Max's success, Yancy (Medeiros), Louis (Smolka), Russell (Doane) all of these guys from Hawaii are doing so good and they're getting better. It opens doors and that's what it boils down to. Hopefully beating the No. 13 guy puts me at least at No. 13. The top of this division is really clogged up. (Michael) Bisping is fighting GSP and Whittaker is hurt, so I'm just going to enjoy this time right here."