It only took Marcos Rogerio De Lima 15 gigantic blows to take down Jeremy Kimball by TKO at 2:27 of the first round. It was a mammoth right hand that dropped Kimball and then De Lima followed up with a ton of big shots that forced the referee to step in to stop the fight.
They said it:
Marcos Rogerio De Lima : "I came early to Denver; I knew it was going to be tough at altitude and I'm glad I came early to get ready. I didn't know much about my opponent because it was switched late, so I watched some video on him and saw there were some things I could do. I saw that he keeps his hands down, so I was looking to take advantage of that and attack. Next, I would like a rematch with Gadzhimurad Antigulov to avenge my loss."
Alexandre Pantoja defeated Eric Shelton
Alexandre Pantoja took out Eric Shelton by split decision, 29-28, 28-29, 29-28. Pantoja outlanded Shelton in the fight, 82-52 and was aggressive on the mat. Shelton landed three takedowns to just two for Pantoja, but the Brazilian attacked with three submission attempts.
They said it:
Alexandre Pantoja : "I come from a very small town and there aren't a lot of opportunities for my people. They see me and I am hope for everybody. In my city, they put a big screen TV to watch my fight and 2,000 people showed up. I am proud of my small city, I feel victory not because of this fight but because people in my city like me, I have a good heart, this is my victory. Being ranked No. 1 in the house, is just a number for me. Those guys had a lot of experience and I really respected everyone in the house – I learned so much from them. The guys gave me something personal, friendship. The show gave to me people, friends, brothers and Henry Cejudo is more than my coach, he is my brother. I lived with him for months. I have so much respect for him. He gave me a good life. I don't respect Cejudo because he's a gold medalist, I respect him because he respects everyone. I really appreciate how big his heart his. I have a big space in my heart for Henry Cejudo. I want Benavidez!"
---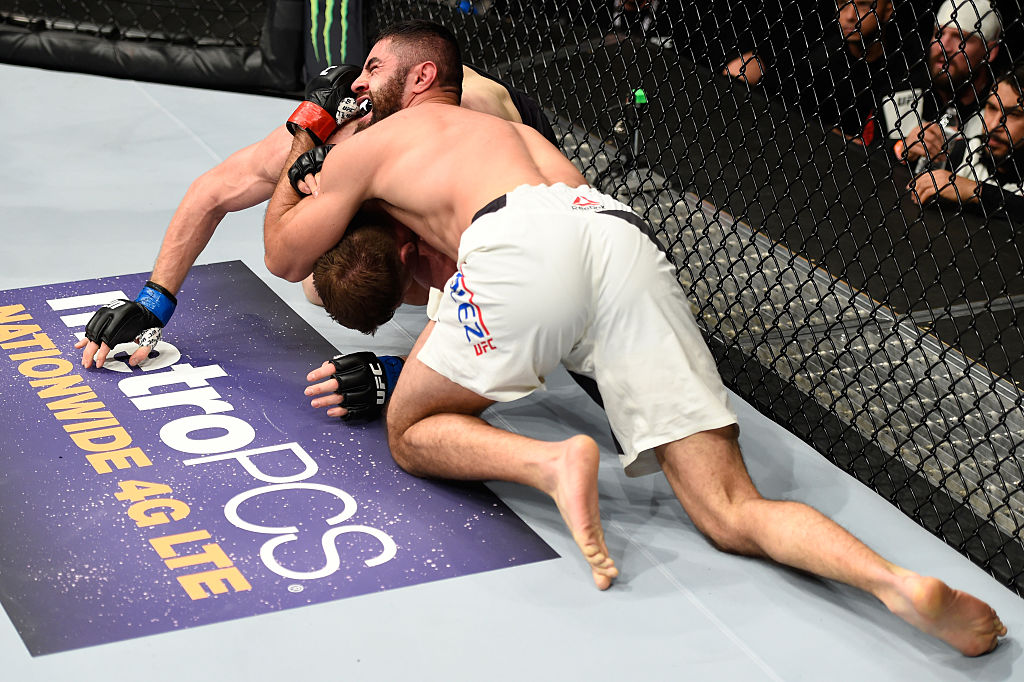 Jason Gonzalez defeated JC Cottrell
Jason Gonzalez rocked JC Cottrell with a beautiful upper cut in the first round, forcing Cottrell to shoot for a takedown. "Superstar" landed the takedown and looked good on top, until Gonzalez stood up after a scramble. Cottrell shot a lazy takedown and Gonzalez defended and cinched in a D'Arce choke. Cottrell was forced to tap at 3:54 of the first round. Cottrell is now 0-2 in the UFC and Gonzalez picks up his first UFC win.
They said it:
Jason Gonzalez : "It feels freaking amazing to get my first UFC win. My first fight, I lost it and it broke down a lot mentally and emotionally, but I didn't give up. I came back and got this one. This means a lot to me. I knew I was a little in trouble a couple times, but he didn't feel like he was too strong for me. I knew that as soon as I got up he was going to shoot again, so I planted that in my head and set it up perfectly. The difference in a second fight with Drew Dober will be a lot. Mentally, I'm going to make sure I focus only on him. Sit down, do my homework than I did. I know there will be a big difference. I'm a lot better fighter than what I showed when he knocked me out. I'd love to take that fight."
---