The sports world will be watching this Friday night when UFC women's bantamweight champion Amanda Nunes defends her title for the first time against returning former titleholder
Ronda Rousey
in the main event of UFC 207. For a lot of fans, this week has been an introduction to Brazil's "Lioness," but as you'll see below, she's no rookie.
Julia Budd
Strikeforce Challengers – Jan. 7, 2011 (Watch on UFC FIGHT PASS)
Amanda Nunes didn't fall out of the sky and into the Octagon at UFC 200, where she took the women's bantamweight title from Miesha Tate. She's long been on the MMA world's radar, and when she was signed to the Strikeforce promotion in 2011, there was a buzz that the Brazilian bomber was about to put WMMA on the map in a big way. Well, Nunes didn't disappoint in her United States debut, needing just 14 seconds to knock out respected striker Julia Budd. If we're keeping score, that's 25 more ticks of the clock than it took Ronda Rousey to submit Budd ten months later.
Sheila Gaff
UFC 163 – Aug. 3, 2013 (Watch on UFC FIGHT PASS)
After defeating Budd, Nunes was the star on the rise in the 135-pound division, but eight months after that win, the Brazilian got sent back to the starting blocks by veteran Alexis Davis, who stopped her in two rounds. Starting fresh nearly a year later, Nunes was only able to muster a 1-1 record in Invicta FC, but by August 2013, she was ready to tackle the best of the best in the UFC, and in front of an appreciative crowd in Rio de Janeiro, she took apart Sheila Gaff in a little over two minutes. "The Lioness" had arrived.
Germaine de Randamie
UFC Fight for the Troops 3 – Nov. 6, 2013 (Watch on UFC FIGHT PASS)
Perhaps the most accomplished female kickboxer to step into the Octagon, Germaine de Randamie is deadly on the feet and her resume speaks for itself. But when facing Nunes in November 2013, the Netherlands native just wasn't ready for the ground assault of her opponent, with Nunes stopping her in less than four minutes. It was a statement-making victory that propelled Nunes into a huge fight that had the world watching.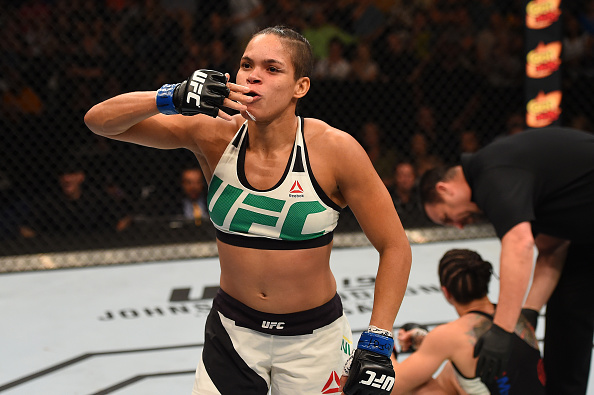 Sara McMann
UFC Fight Night – Aug. 8, 2015 (Watch on UFC FIGHT PASS)
On Sept. 27, 2014, Nunes looked to be on the verge of earning a world title shot, as she put it on Cat Zingano and nearly stopped her at UFC 178. But instead, it was the resilient Zingano who got a crack at Ronda Rousey after a come from behind third-round TKO win. The loss, Nunes' first in the UFC, was a crushing one, but after returning four months later with a stoppage of veteran Shayna Baszler, Nunes got another chance to make her case for a title shot, and she made the most of it, winning Performance of the Night honors for her first-round submission of Olympic silver medalist Sara McMann.
Miesha Tate
UFC 200 – Jul. 9, 2016 (Watch on UFC FIGHT PASS)
Following the win over McMann, Nunes decisioned Valentina Shevchenko at UFC 196 in March of this year. That set up a showdown with new bantamweight champion Miesha Tate in what turned out to be the main event of the historic UFC 200 card in Las Vegas. Despite the pressure on her shoulders, Nunes was on from the second the Octagon gate closed, and while the end result was a submission, it was the Brazilian's accurate and crushing strikes that set up the finish and put a championship belt around her waist. Now it's Rousey's turn to try and tackle "The Lioness."